MastishK
. . . and the minds behind it



"With the possible exception of the equator, everything begins somewhere....this blog began on 23rd August 2004".

This blog is a saga . . . The saga of an idea transforming into an event ! If you are visiting for the first time, it would be advisable to start from the first post... you will have to go to the archives for that.

The naming ceremony

Hi there,
After the coordinators, co–coordinators, creative consultants and conceptualizers, this comes from the Mastishk team. Me and Medda been working on "Media Moguls" - the Media Plan game. The game is all about advertising acumen and managing resources.
Many sleepless nights went by as we tried to capture the right mélange to get what the elusive customer might want. Will need a blog solely dedicated to talk about the project.
But I'll keep my introductory blog short….
will just tell a bit of my experiences..
Of all the nights we have spent working on Mastishk, the one that I particularly remember is the one of "naming ceremony". Yes, it's true, the naming. It was a baby and like all babies, we were deciding what to call him. Nikhil and shoooonya brainstormed and came up with a long list of "techie" and some not-so-techie names for the baby.
But we all had different views. Somehow, none of the names could gain majority of votes. It seemed that the names were covering one aspect and touching another but not quite spanning the whole idea and feel of "The Baby".
Then after dinner the routine walk was over shadowed with serious thought apart from some casual remarks which drew the occasional laugh but not much substance. We all were defending the names that we had picked from the list. Ultimately we came down to suggesting radical names.
As usual from the punster's mouth came "Mastishk - The Encephalon" he he..
Cool type and the whole idea is about the brain and the connections so kinda clicked.
And this is how the transition from POTters to Mastishk happened
will soon follow up with more stories..
till then ciao
Payal.


The new blood

After our summer internship when we rejoined the campus, the new batch had already joined. We as the MastishK team were definitely short of manpower and I had hopes from the next batch to join us. So under the aegis of TechnoMatrix, we introduced this event to the whole PGDIM-XI batch, in the very first forum meeting.
At the end of this meeting I asked for volunteers who would like to join us in this endeavor. I heard later from one of my friends that I spoke passionately in that meeting; however my first feeling after the meeting was that we would hardly have more than 5 or 6 volunteers – I had earlier hoped for 10.
To my surprise, about 17 volunteers came out on that very day. My room was full of people as I explained the concept to each group in detail. The next day we had more, and more volunteers flowed in during the week as news about the event spread by word of mouth. The number finally stabilized around 21. (But we had people joining us as late as 26th august i.e. after the launch of the event). The numbers grew so large that I used excel sheets to map their competencies and interests, so that I could divide them among different game development teams.
With so many hands to work on the games the quality, complexity and expanse of the games and the event itself expanded manifold. The earlier (senior) team members could now devote time to conceptualizing better ideas for the games while the new-comers took up operational roles. This in fact helped me and Hemant to conceptualize more aspects of the event, we moved full speed astern for developing the infromalzz section - the idea of the Comic Strip (as mentioned by Shubham in his last post) came up. We also conceptualized 'Khoj' -the serch game. . .
From a team of 5 we have grown to a massive size of 30+ today. We have, as I sometimes feel, ceased to remain a team and become an organization – and I have even faced issues like attrition and worker motivation, relationship management in the course of the past 3-4 months. Getting work done, setting targets, measuring work, making and following schedules, macro planning, brainstorming etc have become a part of the way we work on the event. I should acknowledge that I have come to appreciate my Management studies better in the light of all aspects that I have discovered during the past few months of working on Mastishk.
My Mastishk has grown with Mastishk (the event) in its ability to comprehend the world.


The Early Quest . . .

hi friendz ...

its shoOOonya again ...

Its 4:00 am early morning Aug 28th. I and Shubham have just finished a long discussion on ARC … our Cartoon Strip which we conceptualised specially for MastishK. The first ever cartoon strip to be launched by a B School in India (probably world too). We have been experimenting with the idea of sketching scanning colouring the cartoon strip and its characters. Finally we have reached some conclusion. I guess I will write only this much. ARC is designated as Shubham's "Baby" now; so he will do the talking abt it. Nikhil has sent an invite to him too and he will also post as soon as he gets time off his busy 'cartooning' schedule. In the mean while ... Let me get nostalgic and tell you abt my early days with Nikhil in Prerana Online (now MastishK) . . .

In those early days when the Idea of Prerana Online was just that … an Idea … a concept … ; we had several meetings and envisioned a whole game plan for the online event. We first chalked out a rough draft of what the different games would be with the basic concept. Then we started building the team of our batch mates and then tried to explain them the concept.

Some understood, some were skeptical, some left, some simply encouraged.
Finally, some joined. !!!

It was a tough time! Getting together a team of 7/8 batch mates to take responsibility of the games. This whole exercise took almost 15-20 days. We had the exams approaching in April first week. It was already March first weekend.

We prepared a one page document about the event mentioning the names of the events as MahaBaharat, Media Moguls, Logic-ticks, Googlistics, Crossword and Quiz. As of today (Aug 2004), only the 'Media Moguls' name survives, all the rest were hit by winds of change. They are now known by better names. Anyway, in those days no practical work was done on the games, except naming them and forming 2 member teams for each game.


The exams came and went away. And then we were out for summers. We knew that the gap of 2 to 3 months from April to June might diffuse the enthusiasm we had created about the event. So me and Nikhil continuously kept in touch regarding the same , shooting mails with new-new ideas every now and then. During the summers, the concept of an Informal section was born. We kept shooting mails to refine the idea of informals during the summers. That is one of the reasons why the informal section is a mini site in itself with a lot of interaction.

When the summers came to an end, we came back to the institute. I was busy with the Induction Program for the junior batch and Nikhil came late into the campus. We started discussing Prerana Online once again from July 2nd. (Innovators and Entrepreuners as we are, we also discussed a serious theatre concept and very soon launched "shoOOonya talkies" the complete theatre club of NITIE !) ....

hmmm ... i guess i need to sleep now .... mornig 9 O Clock lecture is a sure pain in the neck .. infact the whole body ... still praying for a clone ... (hey bhagwaan ... judwaa bhi chalega ... i have completed more than 20 years of my life and so now i m eligible to meet a long lost judwaa bhai according to bollywood standards ....) ...

I better sleep ... zzzzzzzzzzzzzz ............... zzzzzzzzzz ...........


Enter shoOOonya ....

hi friends,

This is Hemantkumar 'shoOOonya' Jain ! The other Event Coordinator for MastishK (need not add ... Nikhil is the first One ;-)

Yesterday during the class, Nikhil told me about the MatishK Team Blog. Well ... we have been writing blogs since quite some time but this 'team blog' concept was new to me. He said he had sent an invite to me to join. I said fine … will have a look but we need to do something abt the homepage today itself. Now or Never.

The rest of the day and the whole night too ... we spent figuring out how to optimize the home page ... the beautiful homepage with the silvered background and 'the MastishK' in the center and silver 3D balls with section names rotating around it. After trying a lot of things, we decided to do away with the individual balls and replace them by a single ball with no text. It worked. We even came up with a textual work around to display shadow effect in the text. Early morning 3 am we finished it. Uploaded the page. Heaved a sigh of relief and fell to the bed like logs. here ... have a sneak preview of the home page .... (you can visit the MastishK site by clicking on the pic below or by clicking on the MastishK link in side bar.)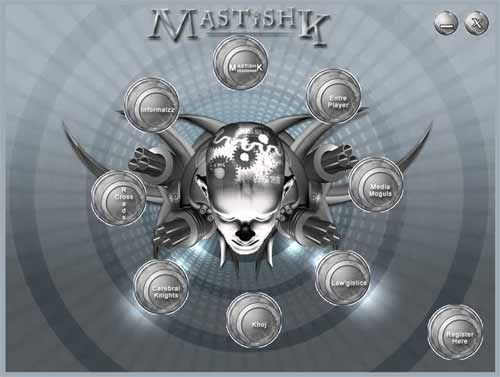 I managed to wake up by 7:30 with no more sleep in my eyes (strange) .. so i decided to make some productive use of time by posting on this blog. So here i m early morning 7:45 .. August 27th, 2004, posting my first post on the MastishK Team blog. Let me tell you how I got into this dream project called MastishK ....
I had known Nikhil (better known as Bill G@te$ or Baba in our NITIE Campus ... I am known as shoOOonya) since the last one year but we had never worked together or were in a kind of common friends circle. It was on Febreuary 13, 2004 when someone asked us to come up with some sort of a skit/play for the Valentine Day celebration the next day. We came up with a script and managed to create something entertaining in matter of 3 hours inspite of V Day constrainsts and attrition ;-).
That was the first time when i personally interacted and got connected to both Nikhil and Shubham. (Hey Nikhil ... Shubham has been with us since the very beginning too ... i guess he is the next most eligible member to receive the invite to blog here ;- )
After the V Day interaction we found many of our interests matching and also some of our principles in life. It was fun knowing him. And then after some days ... Nikhil sent me the first ever official document on the online event. At that time, it was called Prerana Online. I was pretty much excited by his vision of having Online Games and joined in with full support for it. We have been together since then. Inseparable & Unshakeable.
well ... i guess that's all I would like to put in this first post ... its already 8:10 and i need to get ready for the 9:00 O clock lecture. (I wish i had a clone who would do all this lecture attending thing for me .... )
Bye for now ... c ya soon .... ;-)
The humble beginnings
We experimented all day today trying to figure out the optimised page-design. Checked out a lot of effects etc . . but now its too late and we decided to give it a break because we cannot afford to miss the class tommorow . . I think we are almost near the solution . . its just a matter of time .. am sure we can complete the page optimisation tommorow . . . back again . . . let me continue the story where I left . . the beginnings of the team MastishK . .

I sent the document (whose excerpt I quoted in the previous post) to many people in the batch, and finally I could create a team of few (5 to be precise) people who were to start the work. They were Hemant, Shubham, Milind, Payal and Kartik - apart from me of course.
I bet none of us realized that we could end up with such a large event. To start with I had in mind crude ideas for a strategy and media game and Kartik came up with an idea of a logistics game. We trudged slowly – very slowly. I did get a lot of assurances form friends outside this team too that they would help as and when need arises. But the challenge was to create that need, to create a basic structure for the event that would lay the foundation for the rest of the development to follow.
It was hard time, especially because all of us were soon to get busy with our summer internships. We trudged slowly, and when I started for my summer internship in April, we had hardly come any far from where we started. But it never occurred to me that we would not succeed, I somehow had a lot of faith in future – that was pretty eccentric of me I believe.

Well it seems that this blog is getting very personal, which I didn't intend it to. It's high time I bring in newer characters in the story and actually hand over the baton to them.
The beginning of the Mastishk team was also a beginning of my relationship with Hemant. His enthusiasm is infectious (so is mine probably ;D). Slowly as we started working he became as passionate about the idea as me; no wonder he today is coordinating the event with me. I plan to introduce this blog to him tomorrow morning, hope the next post here will be by him.

The Twilight Times
Day 3 . . . Had a discussion with Amit about converting the homepage to flash from HTML . . it is a good option , but might reduce the customisability of it and more so wont significantly lessen the page loading time . . We have decided that we wil give it our best shot . . trying to optimise the page for faster loading (without sacrificing quality) . . . so tomoorow (or rather today) is a going to be long day . . So let me start with narration of the second part of the Mastishk story . .

Soon after Prerana team aproached me with the idea, we started discussions as to how we should go about conducting the event. I was not at all convinced that online games can be simply case studies whose answers are submitted by email. I mean, c'mon just because you are using email doesn't mean that you call the event online. An online event should be transient, dynamic and fast. The scenarios should change everyday and if possible even in hours….. just like real life. After all the net was an agent of speedy change.
But all this tall talk was not becoming convincing. Somewhere even I realized that the Prerana team was finding it hard to convince themselves of the possibility of the online event. Somehow, the support of the batch was also dwindling. At one point of time it seemed as if I was the only person who believed that such and event could be successful. Nevertheless, I got moral support from many quarters; many of my batch mates encouraged me. But almost everyone was skeptical. The Prerana team also, in spite of their enthusiasm was slowly loosing interest in this venture.
Then on 20th February 2004, I finally asked the Prerana team to allow me to join them in a meeting and discuss a final yes/no for the event. I had a hard time convincing them about the possibility of the event. They also laid bare the problems they foresaw. Finally, I put out a clear proposal – I take up the complete responsibility of this event without any continuous day-to-day support from Prerana team as such.
To their credit, Prerana team agreed to this proposal. As I look back today, I would say it was a courageous decision. Appended below are the first few lines of the document that I made immediately after the meeting . . . the first ever document for Mastishk

" I had a talk with Prerana team today (20/2/2004), and got go-ahead for Online games. But there are 3 conditions
a. I should come up with a team as soon as possible, especially excluding people who are already working in relation to Prerana.
b. I should come up ideas of games ASAP
c. I should demonstrate that they are possible"

The cyber-seed
Day 2 . . . received lots of applause from the batch for the work on the homepage . . some foreign responses have also come (ie other B-schools ;) . . the teams are are enthused . . . but I am worried about the high loading time the page is taking . . Since morning I have been coordinating with teams, solving their queires, managing their schedules; I havent found time to look into this problem . . will do it tommorow . . but I did not start this post to narrate today's activities . . . this post is the first part of the story behind Mastishk . . here you go . . . .

NITIE hostels are customarily marked with high network activity levels. Starting from studies to time pass – the whole array of campus activities are done over the network; so much so that we feel lost if there has been no message on IP messenger in a span of an hour. It was quite natural for the cyber-seed of Mastishk to sprout in such conditions.
In November last year when the intranet-server was upgraded, all forums were also asked to revamp their space. As the coordinator of TechnoMatrix, I was to revamp its space. I put all our previous presentations and other reference stuff; and then I thought why not put some fun stuff on the space? So I found some JavaScript based fun games and put them on the server. In other quarters of the hostel our quiz-buffs started quizzing on the network using a LAN messaging tool. We were already discussing our assignments and notes on the IP messenger – such IP-meetings often substituted physical meetings that we did earlier.
Amongst all this I (and as I was to realize later, many others too) came up with an idea of an online management fest and I had briefly put the idea in front of the class. Soon the Prerana team, looking for avenues to expand the scope of our flagship event approached me with the idea to host an online event under the aegis of Prerana.

The beginning . . . . . .
I can see that the outside is lighting up dimly and the first rays of the sun will soon break out. While the dawn in the physical world is yet to break . . . . Mastishk has dawned upon the cyber-world just about 30 minutes ago as of 23rd August 2004, 0550 hours.
"MastishK" the online management fest on which we have been working since the past 6 months is finally seeing the 'light of the day'. For me personally the launch of Mastishk signifies a great feat in itself!
The event has a story of a kind behind it and lot more anecdotes are still being generated as we continue working on the project. A concept which started miniscule has grown into a full event. We have grown from a 5 member team to a large team of 30 plus. each one of us has something to narrate in respect to the event . . .
So I thought why not start up a team-blog for MastishK. So here it is . . .
...the minds behind M
astish
K