MastishK
. . . and the minds behind it



"With the possible exception of the equator, everything begins somewhere....this blog began on 23rd August 2004".

This blog is a saga . . . The saga of an idea transforming into an event ! If you are visiting for the first time, it would be advisable to start from the first post... you will have to go to the archives for that.

XP: Extreme programming

MastishK was born (as I have said in earlier posts) out of the network culture in NITIE… there was another thing that drove us, the want to implement our knowledge … whether it's the quizzers or the case study solvers – out here all use technology to apply their newly learnt concepts ….

A similar attempt was made by one of our friends Jatin Grover. He was reading "The Goal" where he discovered the 'matchstick game' [hey btw matchstick is so similar to MastishK ;)]. So he set out create a simulation of this game. The simulation is still evolving. When I talked to Jatin about including it in MastishK, he said that this thing will take time to evolve, probably next year it could become a game ;))

So I thought why not take the readers of this blog (i.e. participants of MastishK) through the saga of evolution? After all this is how most of our games were evolved – slowly, steadily – as prototypes first and final versions later. So folks, here is the link

http://jatingrover.co.nr/

enjoy and participate in the evolution of this simulation

all suggestions for this simulation can be sent to

prerana.mastishk@nitie.edu

,

mastishk@gmail.com

,

jatin.im10@nitie.edu

cya

What MastishK gave Me !!

Hi friendzz ....

its

shoOOonya

again . . . . . .

Hope you guys are having fun visiting the MastishK website and Blog .....

Ashi's assurance

ki

"saath mein padhenge aur pass ho jaayenge"

made me realise two things ....

1.

I realised that exams are just round the corner from 20th September ... (I'm not sure how much will i study and how am i going to detach myself ) from MastishK.

2.

I haven't touched books for the entire module ... Not attended lectures properly (PPMA types = Physically Present Mentally Absent)

3.

I have a set of friends who are going to take care of me . . .

(hey ... counting mistake ... I had said two things ....)

MastishK has given me 6 very good friends .... Nikhil, Milind, Shubham, Payal, Ashita and Medda (he is yet to write in this blog) ! We are an inseparable group of 7 individuals now (I call it G7) ....


With the Module end phenomena of assignments / reports / projects submissions on the head on one side AND the launch of MastishK website on the other . . .

i would have surely gone crazy

under the pressure. It is this group of solid seven that is holding me together.

Daily we have lunch / snacks / dinner together and go for a walk in and around our NITIE Campus. The lush greenery , the NITIE pond and the Mumbai Monsoon ... walking up and down the roadway ... we share a few laughs and live life in tranquility. Once we are back to the hostel rooms, we are refreshed, re-energized ; ready to scratch the head ... the MastishK over the different aspects of MastishK.

I had always thought that I am not good at multi-tasking .... but being the co-pilot seat of Mastishk .. I have relaised that i am handling soooo many things simultaneously. What an experience.

Infact ... I will take this opportunity to thank first the whole of G7 to keep me going. In their absence, I would have not been able to do sooo much. Its their presence around me that has motivated me to keep going. Of course, there are others who influence me and motivate me, but the G7 is like a support system for me.

Coming back to MastishK ... The past few days have been hectic like hell .... Me and Nikhil were literally the only ones making pages and keeping them ready for uploading. The others were busy with other kind of work.

But it was fun ... sleepless nights ... 3 am Night mess rounds ... I did not go to the lectures for almost a week ... whew ....

Now that

the Quiz and Crossword is launched

, its another challenge to keep things going on. Technology cannot be always trusted. And after the ones who handle technology are humans. And To err is human ... to mess up things requires technology. hehehehehe.

The Counters at the MastishK Onlines games site as well as this Blog are ringing and continuously increasing in leaps and bounds. The MastishK Site counter crossed 900 in just two days (Saturday - Sunday) and the Blog caught more than 222 .

It's actually performing much better than i expected considering that many campuses are somewhat empty with exams getting over and students visiting their homes. I guess I had somewhat under-estimated MastishK and its potential to spread like a virus. Let me quote Agent Smith from the MATRIX (sounds like MastishK ;-) [This one is Nikhil's favourite ... so i will dedicate this to him ....]

"I'd like to share a revelation I had during my time here. It came to me when I tried to classify your species. I realized that you're not actually mammals. Every mammal on this planet instinctively develops a natural equilibrium with the surrounding environment but you humans do not. You move to an area and you multiply until every natural resource is consumed. The only way you can survive is to spread to another area. There is another organism on this planet that follows the same pattern. Do you know what it is? A virus. Human beings are a disease, a cancer of this planet. You are a plague, and we, are the cure." Agent Smith in "The Matrix"


Chalo .. ciao ... will connect with you later. Got a test and a series of presentations.

You keep smiling and have a nice day .....

Keep visiting MastishK ... Blog and Gaming Site !!

... shoOOonya ...

"Mast"- "Ishk" n project management

Hi everybody


ashii is back again with another bLOG for the LOG ;-)

Now since everybody in the mastishk team is involved almost

24*7

we are discussing nothing but Mastishk all the time.

We guys have been given an assignment in project management to prepare a

report

on any project and map it on Microsft software. Our im10 mastishk team minus medda( payal, tappu, shoonya, bill gates, shubham & myself) are in the same group and the project which we chose had to be MastishK only...


While preparing the assignment we are learning the nuances of project management... We actually realized that how much time, effort and resources and gone into MastishK.. It gave us a new way of looking at MastishK....

So Shoooonya boss don't worry..... Our project management assignment will be the

best

(hopefully the only one

LIVE

) and will get you thru this subject.. Baaki doosre subjects main we all will study together and crack the exams.. :-)


btw we have started referring MastishK as "MAST"- "ISHK" since we have fallen in love with it....


more from mAStisHk team soon

Finally its Up and Running ... on a new address !!

hi friendz ...

It's shoOOonya again ... back after a long long time .... almost 10 days ...

The last 10 days have been very very hectic ... the junior teams were busy and so i and nikhil were left with very few 'technical' hands to work on the website. We had to launch the second phase of MastishK .. open up the registrations and launch the Informalzz section along with India's First ever B School Comic character "Arbit Choudhury" !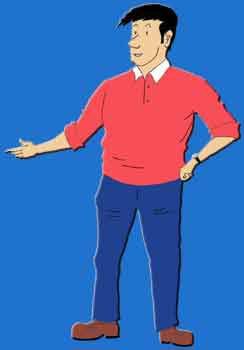 We hardly slept ... attending the minimum reqd lectures and coming back to our terminals and designing pages ... awake till 5 or 6 am in the morning and then going to sleep for 2/3 hours .... nikhil being the more technical one was looking into pure coding things ... me being the non-technical one looking after th look adn feel of the website ... but we cud not work in isolation ...

I used to refer to him to give feedback on the look and he used to get me on the flow adn logic of the functioning of things ..... and we used to have long discussions .... arguments ... compromises ... convincing .. ad yes ... agreeing to disagree ... but it was ll so much fun ...

we used to fight over text size , fonts , colours , placements of objects on the screen , naming of secdtio0ns ... adn then also on how a person would folw thro the website ... how the pages would function behind the consoles ....

since the informalzz section was to be launched first ... Shubham was alos involved in these discussions .... we used to discuss every small n big thing ... how wud the visitors enzoy the sections ... how to present Arbit Choudhury ... how to make it easier fo the user to view the latest content ... since the informalzz section is going to be very very dynamic ... with content changing every 24 hours ....

After all those arguments adn difference of opinions ... shubham came across a thought / quote while we were searching quotes for the manageMints section .... after reading that we had a very very good laugh .... it went like this .....


"When two men in business always agree, one of them is unnecessary."

Well ... all i wud add to it is that a single musical instrument is good ... but the entire orchestra produces the best results .... Team Work is nothing but the churning out the best ideas from a group and deleting the ones which are just 'good' or 'good enough' .....

this reminds me of yet another quote ... one which we accepted as a Motto for Team MastisK


"It's a funny thing about life;

If you refuse to accept anything but the best, you very often get it."
well ... today the MastishK site is up .... final testing is in progress .... soon a mail will go to the world informing and inviting them to experience one of the best online experiences ... an experience of a life time ....
In the past few days ... one thing i realised was that i was suddenly finding
an enormous amount of energy
within me to continue to work ... this came as a shockinhg realization b'coz i am basically a lazy person ... i realised that the
source of my energy was nothing but the pure passion
within me to make mastishK a very BiiiiG success .... pure unadulterated passion ...

I noticed the same around me ... on the entire MastishK team ... tirelessly working on making things perfect ... the passion to make MastishK Biig was common to all ... it was driving all ... as nikhil had once remarked ... if all organisations cud be motivated by such passion ... what a corporate powerhouse that organisation could become.
Coming back to myself ... i have noticed this big change in me ... i am working most of my time ... no time wasting ... thinking all the time ...
my MastishK is working 24 X 7 on Mastishk
....
At the same time...
the flip side of the whole thing
... i havent touched books in this entire module ... exams are just 12 days away and i dont know a thing about anything ... i dont know how m i going to sail or drown thro the exams .... but the satisfaction of seeing MastishK up on the net is something which is right now blocking my mind ... i m still not realising the gravity of the situation ... i will need to study ...
and yes ... how cud i miss this ... we got a new URL for mastishk .... its ...
http://mastishk.nitie.net/
the old url will also remain active ...[
have a look ... register yourself .... see the informalzz section ... enZoy ...
and yes ... we are waiting for your feedback ... do write in ...

keep smiling and have a nice day ....

---> Hemantkumar 'shoOOonya' Jain
Mobile Man-Eater
Hey guys
This is ashita and my friends call me
ashii..
To start with what mastishk has done to our lives it has made my Monitor mobile.. Now you can imagine the power of Mastishk(its all in your mind)..Reminds me of
MATRIX...
Neways the reason behind this is that milind's monitor has gone for repairs so we have to manage with one monitor. Since guys are not allowed in our rooms i have to take my monitor to his room whenever we want to work together. Interesting part is that the day we started working together for POT my monitor stopped working. After a few days i tinkered with mine and it worked but the same day his
MAN-EATER
(That's what we have named the display device after the leopard incidents on campus) conked off. Since that day we are working on the Mobile Man-EAter.
Now how my Mastishk was involed in the Mastishk(erstwhile POT). We had just started with our 5th module after our summers when one day milind asked me that if i could help him in the
Quantitative modelling
of an online game which he was doing for POT. I readily agreed thinking that it would just take a day or two. But once we started conceptualizing the game i was more than involved. We were discussing the game in the class, in the room ,on Ip,everywhere. The game changed every minute we deliberated on it. Any topic which was being covered in any subject we somehow related to our game. It was becoming complicated. There were times where we thought that nothing was going ahead.
But every lull sparked a new idea.
Milind and I complemented each other in the sense that he was focused more on
marketing
side whereas i looked more into numbers and the
supply chain
side. I was good at bulleting and he at Story writing. All this was a
perfect recipe
for our game.
But since both of us were
non IT
people, our junior team from IM11 helped us out. One of the funny incidents which i remember was that one day i was explaining the concept to our juniors. I explained everything with full passion when milind reminded me that i was using
HINGLISH
and one of our juniors did not understand Hindi at all ;-)
Another day Nikhil called a
meeting at 1 am
at night. We had to give him a write up and i asked him that i would submit the next day. He did not agree. I asked him again but still he did not budge. I was pissed off and told him that he would get the write up within an hour. Till then he had also mellowed down and asked me to submit the next day. But i ensured that i completed the write up that night night only although i had to remain awake till 4 am.
More trivia from ashii soon
The Marathi Maanus....
namaskar mandali...

for those not conversant in marathi, it was "hullo folks"!
u guessed it right by now...am a POTter who is marathi by origins and mother tongue, very much like our mastishk originator, Nikhil.

to begin with lemme tell u what is POT...mentioned above and previously by Payal too. POT is simply Prerana Online Team, in short ofcourse. It was a name we had to keep before we landed up with Mastishk. Basically coined for ease of usage in mentioning the reason for us burning oil midnight and much beyond.

Now to my little story of HOW I CAME TO BE A POTter...

Some time way back in March, Nikhil approached me with the idea of an online game. i said, "hey am a hathhoda chhap mechie...and not any comp. guy like u....and wud prefer to be away from the same" and he was like "u don't have to code...just think of a game" and i said, "oh that shud be cool....will do it". and then that was it!! i was on the team. Nikhil told me a few days later that i was teamed up with Anish and we were to make some sort of a strategy game.

Now lazy and not quite so convinced as we were, neither Anish or me bothered to do much. also the idea of Prerana Online seemed dwindling, and we were getting geared up for the endterm and the approaching summers. the endterms came n went, and most of us packed off to our destinations, mine being chennai with castrol. i was told by nikhil, on my way out of mumbai that i was to now team up with shooOOoonya (is that the correct no. of 'o's in ur name, hemant??) since he was to be posted in hosur!! i said chalo dekh lenge....

cut to june last week. came back to campus on 22nd to welcome n make junior batch feel completely at home, away from home. me n hemant were here for that job, and guess we organized the best induction ever in pgdim's short 10 year history! anyways, nikhil was back and so was my guilt of not doing anything for the past 3 months....he's after my life again, i thought....

just then, (and i take the liberty of introducing my pardner....) ashita came to my mind as a person who cud help me with the mind-boggling numerics required to run the game.....YA, I COMMITTED MYSELF TO IT AGAIN. july 15th was our first deadline which we managed to beat (black n blue). and it went on n on....and on n off too! and the game is done now. we were then allotted a set of brilliant youngsters by nikhil, each one a master in the world of html, javascript, blah, blah....in which our game was to take shape.

thats about all i want to write about my game for now....more shud come up from ashita shortly....i expect her to be more serious and quantitative in her post ;)

till then,
parat bhetu....
(meaning fir milenge)

p.s: just noticed....i haven't put my name anywhere....not that it matters.....phir bhi....
its milind m. tapaswi (tappu)